60v 40ah motorcycle Li(NiCoMn)O2 battery ,ce 60v 100ah e-motorcycle lithium battery pack 60v 40ah motorcycle Li(NiCoMn)O2 battery
Dear valued customer,
We are an manufaturer specialized in Lifepo4 & Ncm lithium battery used for EV,E-Bike,Golf Car,Mail Truck,UPS and solar energy storage.
Customization is available
.
Lithium polymer battery modules in parallel or in series, can be used in electric vehicle,
E-bike, UPS, energy storage system, telecommunication base station, E-scooter, E-tools,
unmanned airplane, golf cart, fork lift, cleaning car , electric wheelchair, etc.
1. Battery Parameter
We have battery packs from 12v to 400v with 12ah to 200ah, here taking 72v 40ah as an example.
Pictures of 72V 40Ah lithium polymer battery pack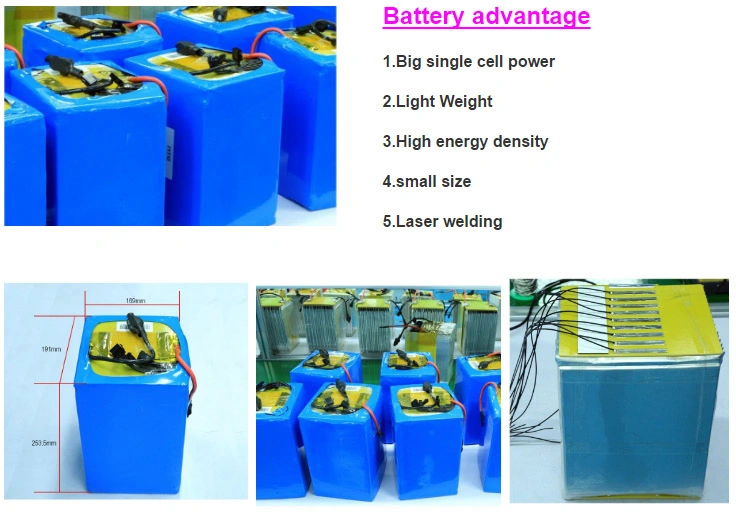 Product specification:
Nominal voltage
60.8V
Nominal capacity
50Ah/80Ah/100Ah @0.5C Discharge
Dimension
50Ah: 170*360*360mm
80Ah: 200*250*650mm
100Ah: 192*425*630mm
Weight
50Ah: 32kg
80Ah: 65kg
100Ah: 75kg
Working voltage
38-69.35V
Discharge rate
Continuous:≤1c Max:3c/30s
Lifespan
≥2000 cycles
Charge rate
≤1c
Suggested discharge & charge rate
0.5c & 0.5c
Operating temperature
Charging: 0°C ~ 45°C
Discharging: -20°C ~60°C
2. Main Features of Our EV Battery Cells

1. High energy density
| | | |
| --- | --- | --- |
| | lifepo4 battery cell | LiNiCoMn battery cell (ab.NCM battery) |
| weight energy density | 150wh/kg | 200wh/kg |
| volume energy density | 280wh/L | 334wh/L |
2. Low internal resistance
Methods of reducing the internal resistance:
**Using carbon coated aluminum foil
**Multiple electrode tab design
**Increasing the width of electrode tab
**Coating PVDF on battery separator
**Pore-creating artificially


3.Long lifespan
Usable for more than 2,000 charge-discharge cycles
> 4 times than lead acid battery
> 2 times than li ion battery


4.Excellent performance in high and low temprature
Usable in extremely cold and hot environments (-20 to 60 ºC)

CTS cell's performance and Application

Safety Performance
| | | |
| --- | --- | --- |
| Item | Test name | Result |
| 1 | Over charge | No fire,no explosion |
| 2 | Over discharge | No fire,no explosion |
| 3 | Short Circuit | No fire,no explosion |
| 4 | Drop | No fire,no explosion,no leakage |
| 5 | Hot oven | No fire,no explosion |
| 6 | Crush | No fire,no explosion |
| 7 | Needle puncture | No fire,no explosion |
All of CTS battery cells in a pack are with very high consistency.In a pack, each cell has its ownsole electronic code(ID number) for quality control after-sale. Assume one cell in a pack is damaged in any reason after several years later, we could provide a exactly same cell to the client to replace this damaged one(same voltage, capacity, impedance,etc.), in order to make sure all of the cells in this pack with very high consistency. CTS has a strong system working for this.

Battery assembly process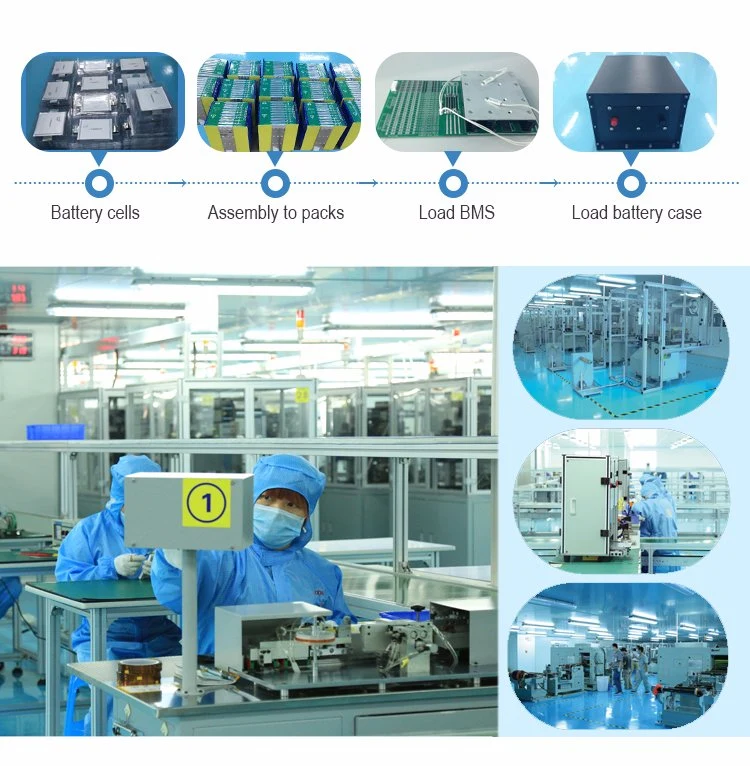 3. Some Related Application Case
Each battery module in parallel is fixed with steel parts,then put them together by pull rob.After this,there are covers to protect battery with case and BMS.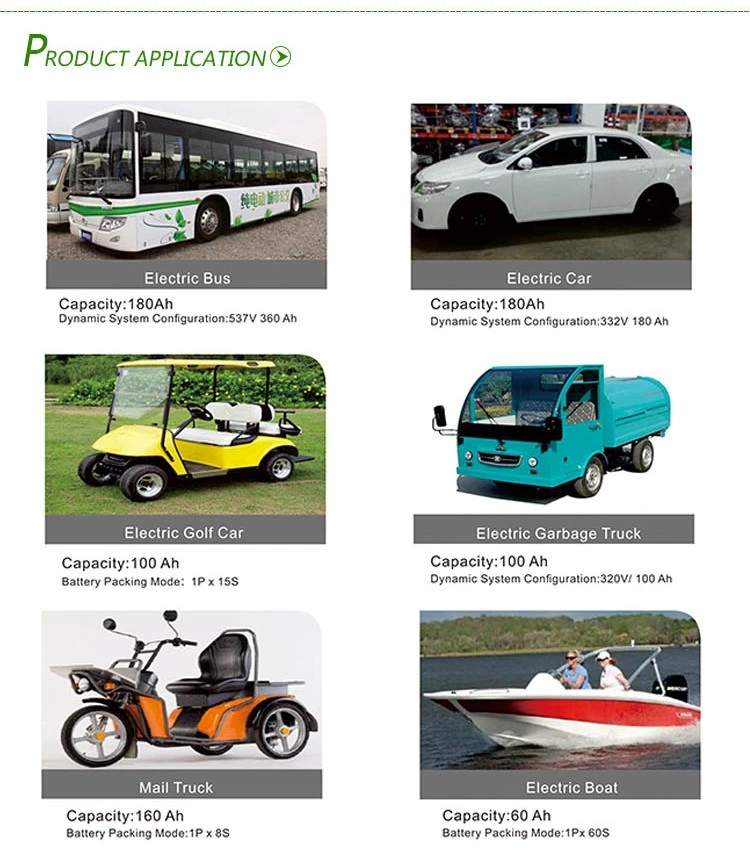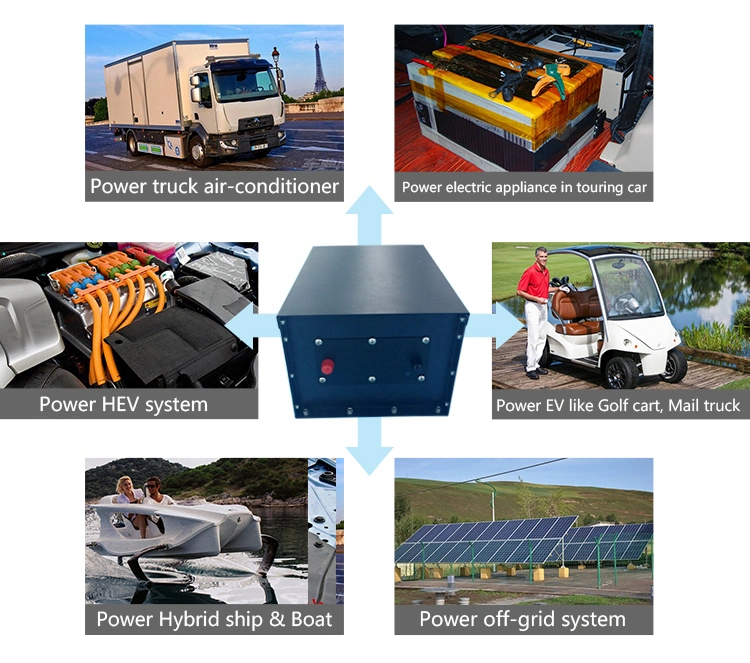 About CTS

Do the batteries have a warranty?
§ Yes, currently 3 years; extended warranties are also available.

How long do the batteries last?
§ 10 years / 200,000 KM (124,275 miles) [calculated based on 100km battery pack]
§ 2000 charges & discharges at 100%.
§ This means approximately 10 years of normal use 200,000 KM. (124,275 miles)
§ Normal use is defined as 20,000km/year. (12,500 miles/year)

Do you use Lead Acid Batteries?
NO WE DO NOT! Our reasons:
§ Lead Acid Batteries do not allow as many charge & discharge cycles as advanced lithium batteries
§ Lead Acid batteries degrade after 300 charge cycles in an electric car until they expire, approximately 1.5 -2 years of driving
§ Not cost effective to change your battery pack every two years
§ Lead Acid is HEAVY, and reduces your range, doesn't supply continuous power

Customer Feedback
We are happy with your battery quality. I've also been very happy with your good support,
let's continue discussions and work on more,tks.----Michael (from Berlin,Germany)

I wanted to thank you for your help. The battery pack tested at over 100AH with over 5400Watt hours! It ran two home refrigerators (one is in my hot garage with no A/C) and my 65" TV for about 20 hours! --- Tom (From L.A USA)

I am thrilled to have a superior pack from your company! --- David (From Melbourne Australia)

Order information

Sample is avaliable and welcome.
Trade term: FOB Shenzhen or Guangzhou; EXW, CIF,DDU and DDP are available.
Delivery time: 7 working days for sample order, 15- 25 working days for mass order.

Market Manager: Barry Chan
Tel: +86 185 7051 7761