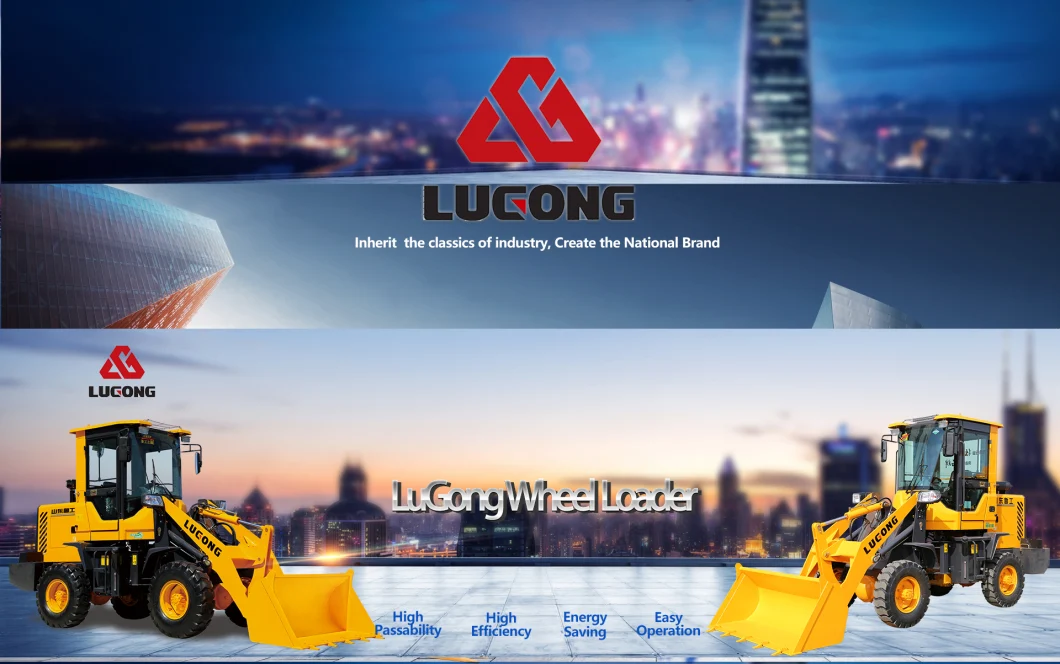 Product parameter
L928

main technical parameters

transmission

bucket capacity

0.8m³

type

hydraulic torque converter

rated load

1600kg

pattern

automatic

operating weight

3200kg

gear shift

F1/R1,double H/L

overall dimension (mm)

5460x1700x2800mm

axle

AWD,Isuzu axle

wheel base

2150mm

tyre

wheel track

1360mm

tyre size

20.5-16

bucket width

1700mm

working hydraulic system

Max. dumping height

3200mm

operating type

mechanical single joystick

Max. dumping height

700mm

lifting time

5S

turning radius

4500mm

falling time

3S

Min. ground clearance

260mm

braking system

Engine

service brake

oil drum brake on 4 wheel

model

Sida490

parking brake

hand brake

pattern

in-line, 4 cylinder

optional: A/C, Cabin heater, forklift

rated power/speed

42KW/2400

Pallet fork, log grapple, grass fork

weight

230kg
Product images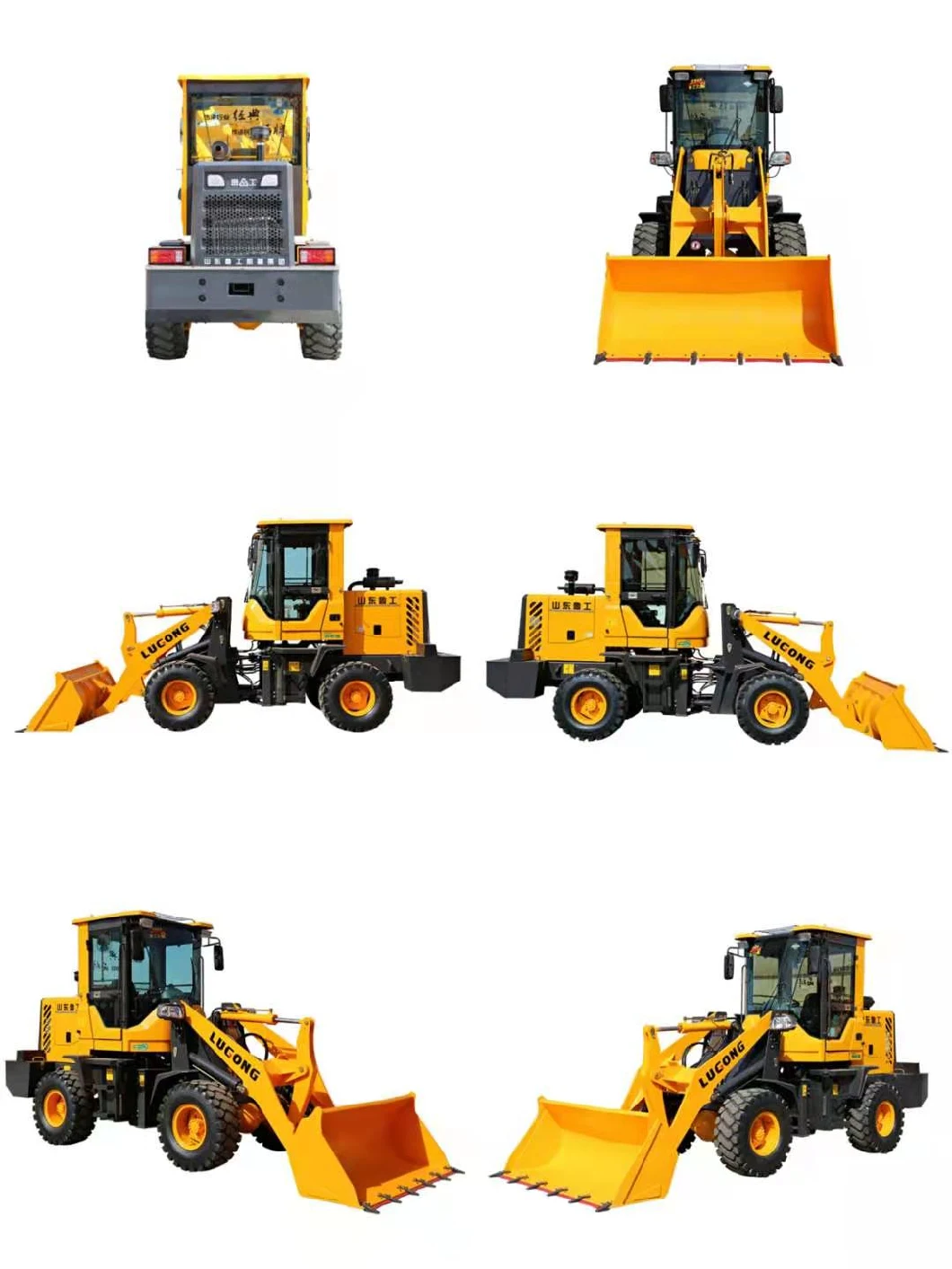 Details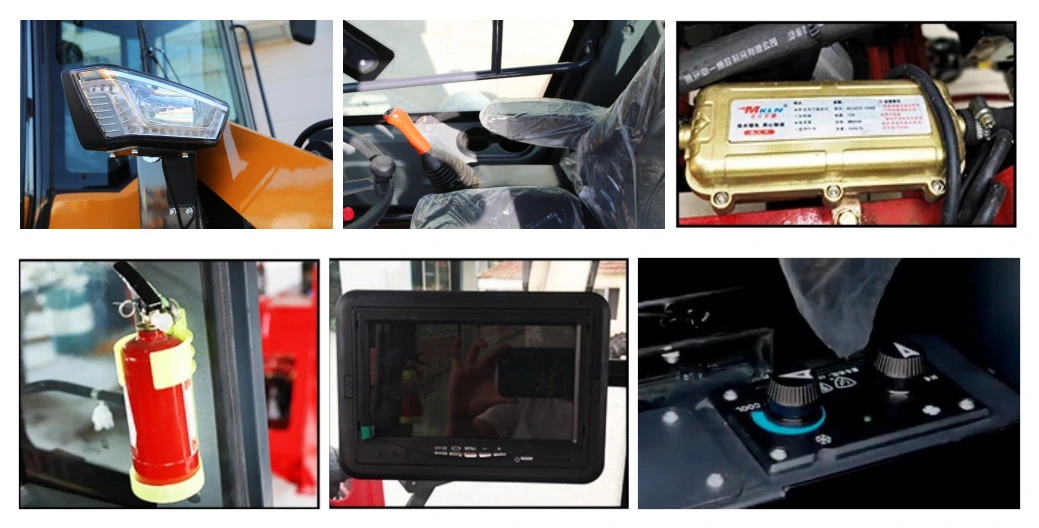 1.Lugong Loader use LED lights, in line with international standards. The shape is also new designed ,can give you a better and stronger light
2.Our new designed wheel loader's seat add adjusted armrest ,you can ou can rest your arm on it.
3.Electric heat storage can be completely dry burning, very cold when preheating in advance.
4.fire extinguishers in our loader are of export standard quality.
5.Lugong loader's rearview camera is luxurious and is very upscale in the cabs. It's very clearly
6.Our wheel loader use the original Air conditioner it's our owndesign, we have the patent. The cooling anf heating effect is pretty good.


7.Pads of lugong's loader are also specially designed and tested for more than 10 times.Withthe new designed rubber shock pads, the cab floor is tightly fitted to the frame without shock.
8.Lugong Loader's engine is powerful engine. And we only cooperate with the best engine factories nationwide. The engine is equipped
with a preheating device, which is easy to start in winter.
9.The tires that we used to our loader . We adopt Steel Brand Tires, which has 18 PR Nylon with standard rim, there is tube tyre inside. It is more durable like
it's brand .

Attachments
We have more than 30 kinds of attachments,All kinds of attachments can be replaced,It can be customized to your requirements.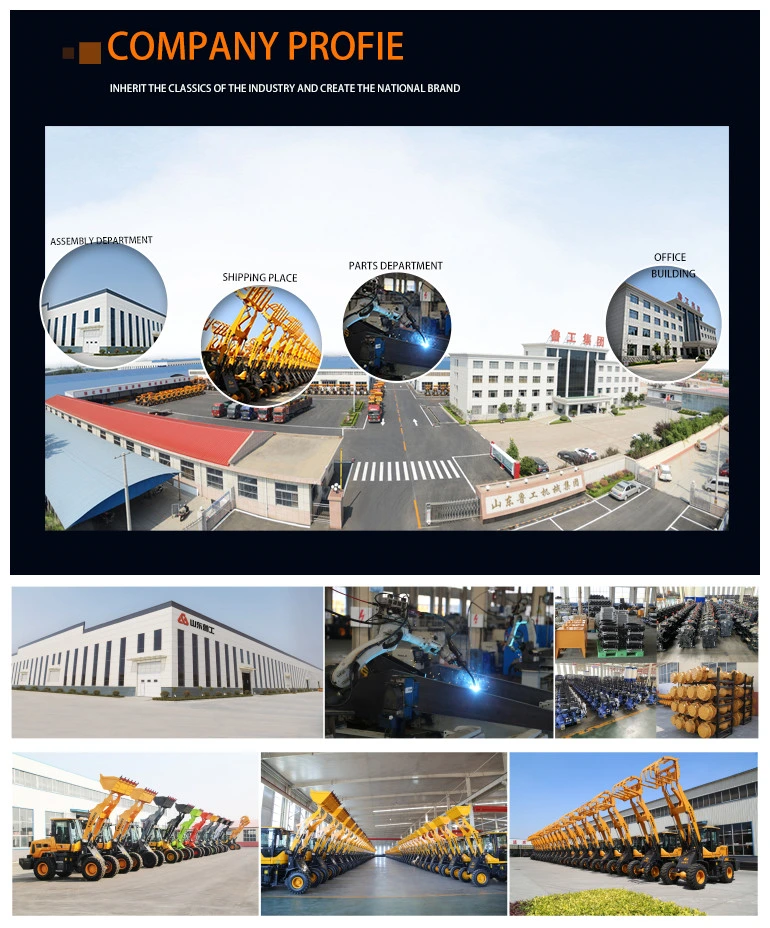 1. Focus on the manufacture of loaders, fully reinforced. Lugong Group has ensured the excellence of performance and stable use by having experienced manufacturing team, relying on advanced equipment, importing oversea parts and with the attitude of excellence.
2. Optimizing manufacturing process, guarantee the steady improvement of product quality. 2 R&D centers, 6 laboratories, 12 engineers and 88 technicians enable Lugong could always deliver superior quality products and making great efforts to become the best brand in China.
3.Perfecting quality control system, multiple professional qualification certification. As the perfect quality control system been established and produce procedures been strictly followed inside the group, the performance and core technology of product got secured, also make us in the leading position of the industry in China and well received users.
4.Full tracking service, meet your after-sales demand in time. The professional after-sales service team of Lugong provides 24 hour one-stop online service to help with your needs and to take care any product consultation and technology related questions you may have.
our honors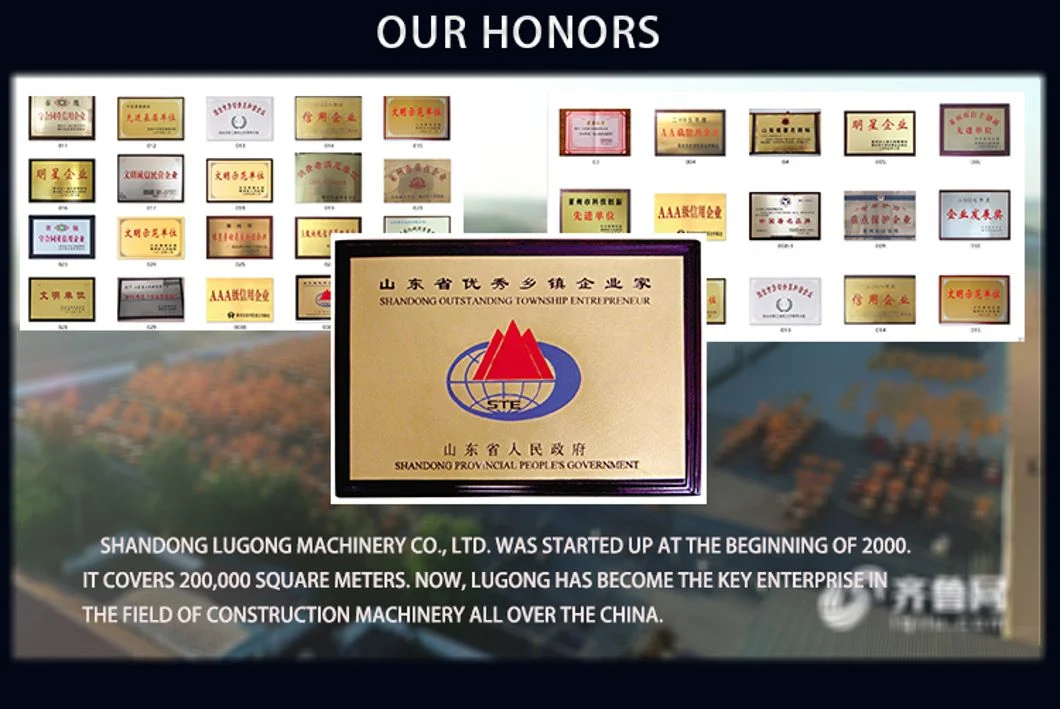 Certificate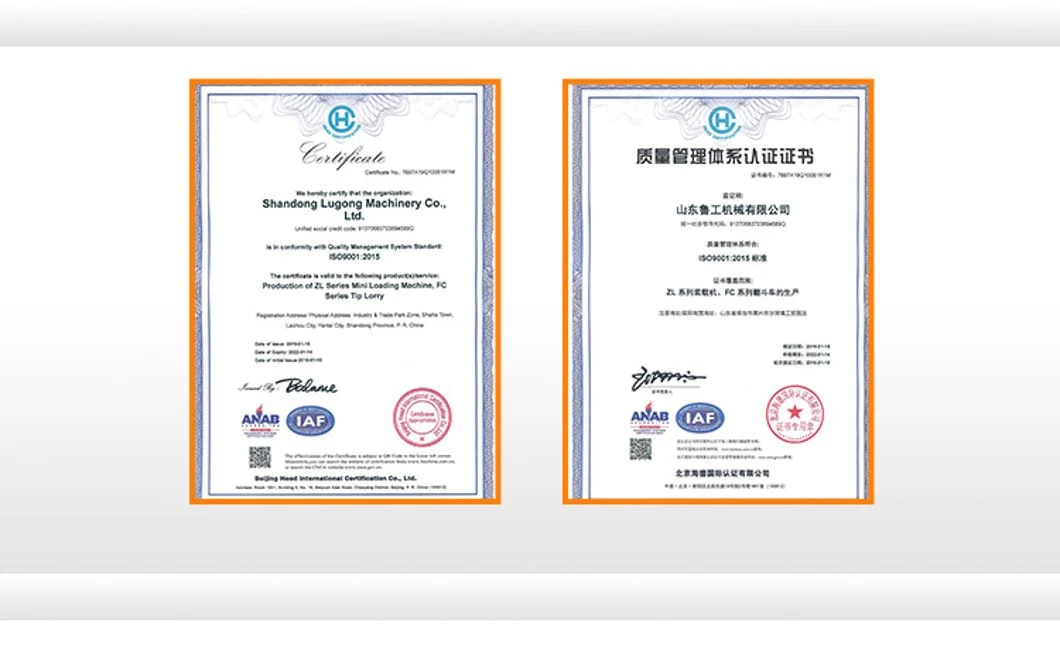 Exhibition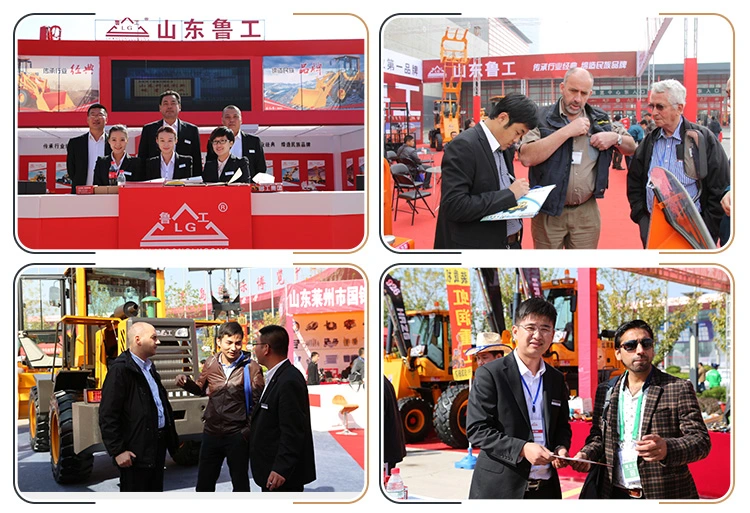 Packing & Delivery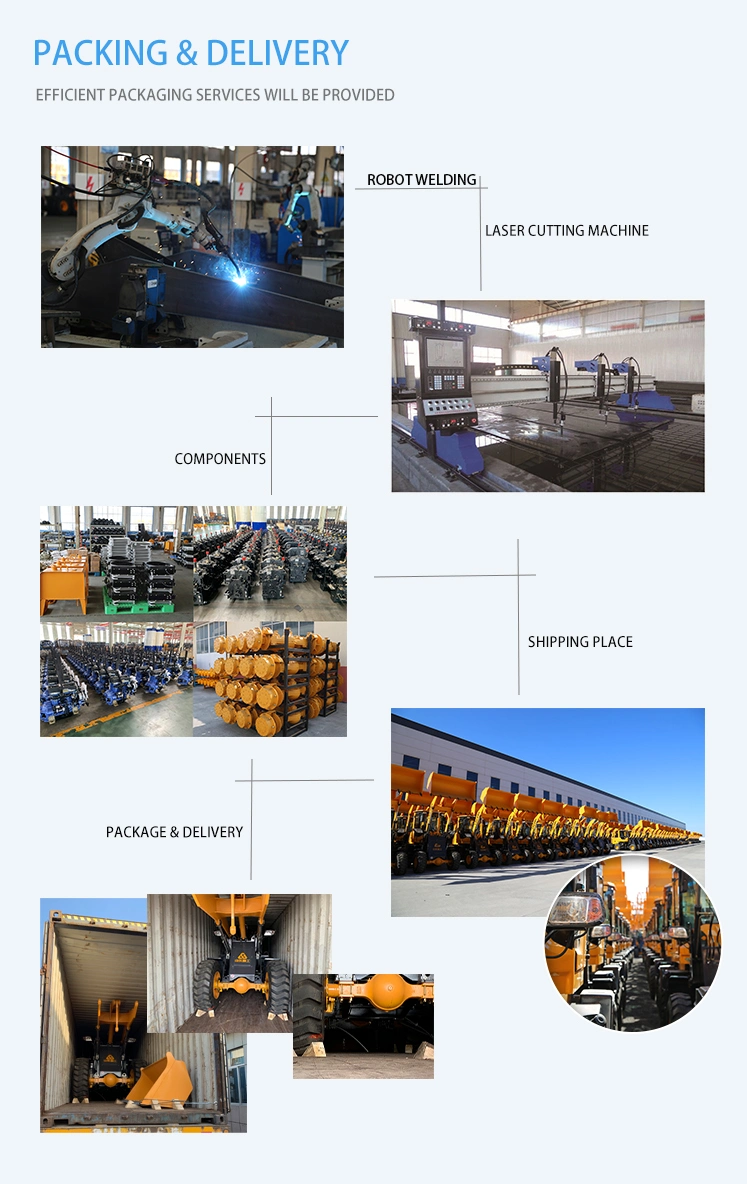 Shandong Lugong Machinery Co., Ltd. was founded in March 2000. Our company is the backbone enterprise of construction machinery national wide. It covers a land of 200 thousand square meters and has 1100 employees, 88 of whom are engineers and technicians.
Our company mainly produces loaders, excavators, tippers, tricycles etc. Products are mainly sell to over 20 provinces in China and export to dozens of countries and regions in Africa, Southeast Asia, South America and Russia. The quality and performance of our small farm-use loaders and construction tippers are in leading position of the industry throughout the nation and well received by users. Now, "Lu Gong" brand loaders and tippers have gained acceptance by dealers and uses all over China.
We focus on quality, performance and consider of users as always. In management, we've achieved a new level by adopting ISO 9001:2015 international quality management system.
We would like to develop in economic construction by holding our old and new friends and users' hands by following our business philosophy of " Driven by science and technology, seeking survival by quality, benefiting by managing and winning market by service" and spirit of " Pioneering, innovating and pursuing excellence".